What's New
American Friends of the Parents Circle is pleased to endorse the bipartisan introduction of The Partnership Fund for Peace Act of 2019.  If enacted, it will improve economic cooperation with Palestinians and people-to-people dialogue. It will help build reconciliation between Israelis and Palestinians.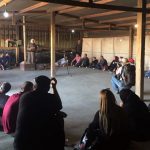 By Yuval, a graduate of the Narrative Group for Medical Professionals
In April, a group of Israelis and Palestinians, members of the Parents Circle – Families Forum toured three unrecognized Bedouin villages in the Negev. The stories we heard from the Bedouin were hard to hear. All they want is to continue to exist in their surroundings.