This week marks the commencement of the academic year for students worldwide. In a prestigious Tel Aviv high school, it kicked off with a powerful protest.
Responding to the Ministry of Education's controversial decision to exclude the Parents Circle from its roster of approved external programs, this high school took a bold step by inviting the organization to address the students on their very first day.
Scores of students, parents, and educators gathered to listen to the narratives of bereavement and the extraordinary pursuit of reconciliation, as shared by Yuval Rahamim, a bereaved Israeli member, and Yakoub Al-Rabi, a bereaved Palestinian member – a program that had been held each year before the recent decision.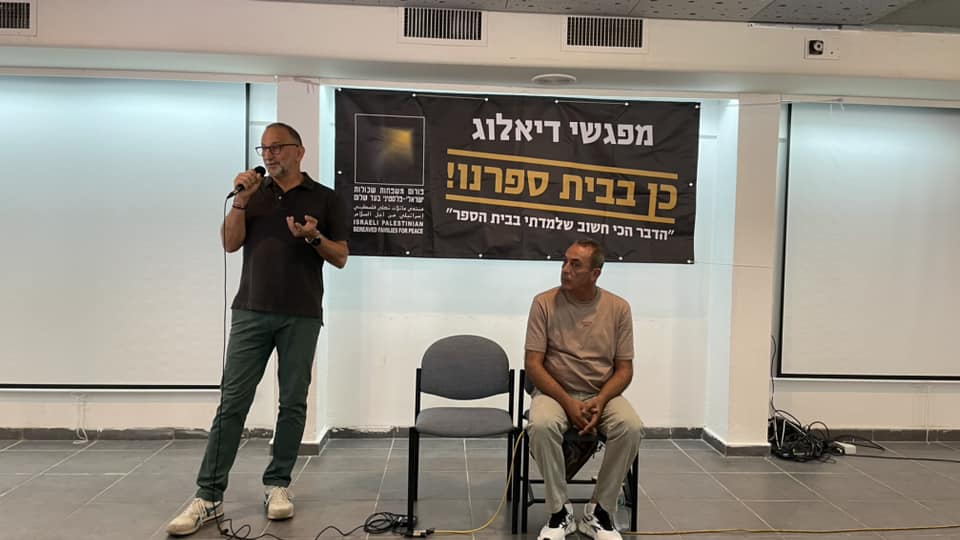 The recently resigned principal, Dr. Ze'ev Degani, explained his departure by stating, "it is exceedingly challenging to operate in an environment where internal constraints hinder open dialogue."
The Parents Circle has appealed the decision. They are fully prepared to take the matter to the Supreme Court if necessary.
Meanwhile, several other high schools across Israel are joining forces— they have invited the Parents Circle to speak to their students, as a show of solidarity with the organization and to protest the judicial overhaul.
The expulsion of the Parents Circle highlights the profound implications of the erosion of democracy within Israel.
Stand with the Parents Circle Against Government Attacks