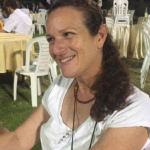 by Efrat Geri
Bereaved Israeli daughter and member
Parents Circle – Families Forum
February 2, 2023
(written in response to "A new restriction by the Ministry of Education is intended for one organization: the Parents Circle Family Forum", by Shira Kadri-Ovadia)
Dear Mr. Minister of Education,
My name is Efrat Geri, I am a teacher and educator in one of the schools in Israel. I am also a bereaved daughter. My father was killed in the Yom Kippur War. He was also a teacher and educator here in my country.
My father hated the war. He thought even then, 50 years ago (yes, this year will be the 50th anniversary of that damned war), that going to war, that using force instead of talking, was wrong.
I am a member of the Israeli-Palestinian Parents Circle – Families Forum. I am extremely proud to be a member of this humane organization (despite, or because of, the high price I paid to be a member).
"Commemorating the Fallen" has no educational value if you don't talk, at eye level, with everyone – yes, everyone. Because in order to interrupt this terrible cycle of bereavement for every person, regardless of who they are, we need to meet, talk, and listen. This is what the Parents Circle – Families Forum does when it visits the schools in Israel – meet, talk, and listen. Please – you must not destroy this piece of Godliness. It is priceless and blessed.