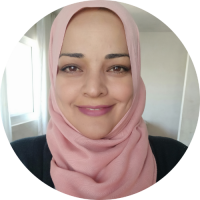 by Laila Alsheikh
Bereaved Palestinian mother
Women's Group Member
Parents Circle – Families Forum
March 8, 2023
Life in Israel and Palestine is devastating and troubling these days. Yet there are glimpses of hope in unexpected places.
Despite the violence, upheaval and death, last week 50 bereaved Palestinian and Israeli women came together in East Jerusalem to mark International Women's Day.
We first met with a group of Palestinian women who started a honey making business on rooftops in Jerusalem. They shared their methods of nurturing bees and their excitement about profiting from their endeavors.
The women from our group were inspired because we too, have started a business — a wedding service business.
Forty Palestinian women, including me, have taken courses in catering, floral arranging, hair styling, makeup and nail art so that we can supplement our incomes and follow our passion. I am pursuing my dream of becoming a fashion designer.
We practiced and shared our new skills on our bereaved Israeli sisters.
We honored all of the Palestinian women who have completed their wedding service courses with a completion ceremony. It was heartwarming to see the skills and joy that the women shared.
I am proud to be a member of an organization that is one of the few which continues to bring Palestinians and Israelis together. We must continue on the path of reconciliation and hope even during the darkest of times. We believe that together, we can create a brighter future for Israel and Palestine.
Will you stand together with us?

To donate by check, please mail to:
American Friends of the Parents Circle
4 E 95th St 5C
New York, NY 10128
To donate by check, please mail to:
American Friends of the Parents Circle
4 E 95th St 5C
New York, NY 10128