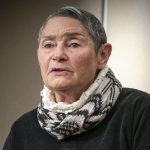 by Robi Damelin 
Bereaved Israeli mother 
Parents Circle – Families Forum 
Dear friends,
Sitting here after three weeks of lockdown,  I have had a chance to ruminate and feel so grateful for your support and friendship.  Without you, the struggle we have at the Parents Circle – Families Forum towards reconciliation and non-violence would not have been possible. I have been working on the ground for many more years than I would care to admit and have travelled to the States almost every year at least three times. Nowhere I have travelled has been more welcoming, generous and understanding. New York is almost a second home. I watch the news and can only feel heartbroken to see what this dreadful plague, Corona, is doing. There is, however, a palpable sense of survival, perhaps a result of so many who found a new home after having to leave their original birthplace.  
Here there is a complete lockdown, and of course both the Palestinian and the Israeli Offices are closed. It is, however, a catalyst for new and creative thinking. We spend time talking on Zoom,  giving lectures to audiences we cannot see. This is an opportunity to say that we would be pleased to talk on Zoom to classrooms, groups from their individual homes, and create opportunities for people to have hope and to realize that, now more than ever, we need to support each other in our quest for a better, peaceful world. We are showing documentaries on reconciliation, which we would be happy to share, and would welcome ideas of how we can work together.  
Please take very good care of yourselves, and if you are as ancient as me, even more so. 
With much love,
Robi
Robi Damelin is the Israeli spokesperson at the Parents Circle – Families Forum. Her son, David, was killed by a Palestinian sniper in 2002 while guarding a checkpoint near a settlement during his army reserve service. She speaks to Israeli and Palestinian audiences all over the world to demand that reconciliation be a part of any peace agreement.