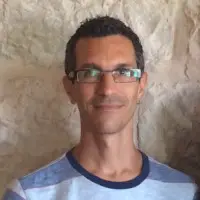 My name is Arnon, and I'm from Hod Hasharon, Israel. I took part in the Parallel Narrative group for bereaved people from both sides. My uncle was killed in the Six Days War. I was named after him, and even though my family lost him before I was born, I have carried his memory with me my whole life.
The Parallel Narrative group was truly life changing for me. It was the first time I met someone from "the other side," that I heard a Palestinian and that a Palestinian heard how I feel. But even when we come together to speak, there is still this huge gap between us. Being part of this Parents Circle group helped me to understand that and to start thinking about ways to bridge that divide between Israelis and Palestinians.
For the first time in my life, I became an activist and I am proud of it. I am now part of the Alumni Steering Committee, which leads and coordinates all of the 1,000 Israeli and Palestinian Alumni in education and activism.