Last Friday, on International Women's Day, bereaved Israeli and Palestinian women from the Parents Circle marched together in silence in Tel Aviv. They handed out flowers to women along the march, with notes reading, "It is better to give flowers to living people than putting them on their graves."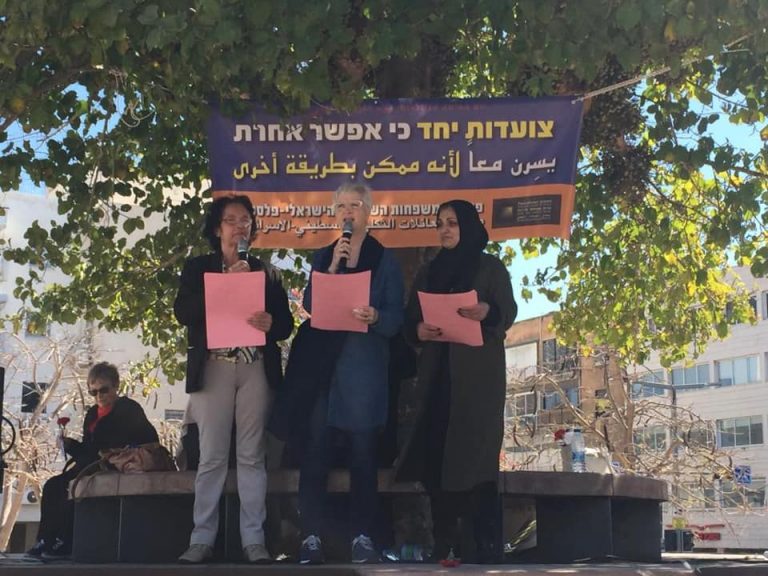 We march together today, on International Women's Day, to show that it is possible to bring our message to society— if we can, so can all of you too."
–Bushra Awad, bereaved Palestinian mother

"Today we chose to march and share flowers together, to tell you that for too many years we have placed flowers on the graves of the fallen and nothing changes. Let us work together to end the cycle of bereavement."
–Anat Marnin, bereaved Israeli sister
Anat and Bushra were joined on stage by Hamutal Bar-Yosef, an Israeli poet, and Rowand Aktam, a Palestinian student, who read the poem "Revenge," by Taha Muhammad Ali. Read the full transcript of the poem and the other speeches given here.
Our Women's Dialogue Meeting program brings together bereaved Israeli and Palestinian women for peaceful dialogue, and provides peacebuilding training for women leaders. This program is under direct threat due to the Trump administration's cuts to USAID.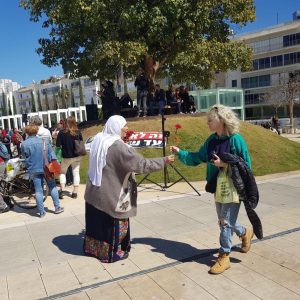 "The silent march was powerful, with true feminine power. As someone based in Tel Aviv, I can say that here, too, the experience of a Palestinian giving flowers to passersby was inspiring and hopeful. It seems to me that this is the heart of the Parents Circle's message about dialogue and people-to-person contact. Thanks for that."
Your tax-deductible donation will support the joint peace building efforts of Israeli and Palestinian bereaved families.