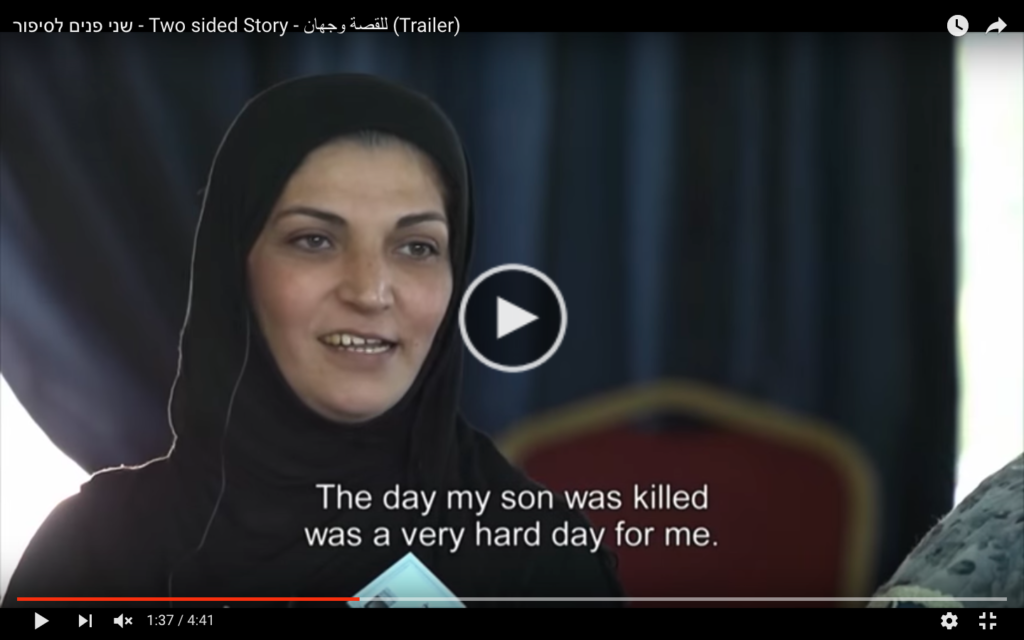 Steps For Hosting a Screening
1. Make a donation of $200 on our donation page.
2. Indicate on your contribution "For Two Sided Story Public Screening," and provide the mailing address to which the DVD should be sent.
3. Email us to obtain a PDF of the official screening guide for participants to your event, and for more information.
4. To purchase the documentary for private viewing, click here.
Ideas for screening our documentary
About the Film
In the film, Emmy award director, Tor Ben Mayor follows a group of 27 Palestinians and Israelis who meet under the frame of a unique project called "History through the Human Eye" led by Parents Circle-Families Forum – bereaved Palestinian and Israelis for Peace and Reconciliation. The project's goal is to acknowledge the narrative of the other. Together they create the conflict mosaic. Among them include Bereaved families, Orthodox Jews and religious Muslims, settlers, ex soldiers in the Israeli army, ex security prisoners, citizens of the Gaza strip, kibbutz members, second generation holocaust survivors, non violent activists and more. Each and every one holds his own historical truth, and carries with him his own emotional baggage.
Past Screenings
| | |
| --- | --- |
| Haverford College | Haverford, PA |
| East-West Institute | New York, NY |
| Rutgers Presbyterian Church | New York, NY |
| United States Institute of Peace | Washington, D.C. |
| Center for Jewish Studies at the University of Minnesota | Minneapolis, MN |
| Islamic Center of Minnesota | Fridley, MN |
| Global Missions Committee at Rock Spring Congregational United Church of Christ | Arlington, VA |
| Wesleyan University | Middletown, CT |
| J Street U – Macalester College | St. Paul, MN |
| Town and Village Synagogue | New York, NY |
| Friends of Tent Nations North America | Arlington, VA |
| Duke University | Durham, NC |
| White Memorial Presbyterian Church | Raleigh, NC |
| Berkeley Fellowship of Unitarian Universalists Social Justice Committee | Berkeley, CA |
| Williams College | Williamstown, MA |
| Search for Common Ground | Washington, D.C. |
| Congregation Shomrei Emunah | Montclair, NJ |
| Emanuel Congregation | Chicago, IL |
| Stetson University College of Law | Gulfport, FL |
| Voices for Justice in Palestine | Walnut Creek, CA |
| Witness Palestine Film Festival – Rochester | Rochester, NY |
| Concordia University & the Montreal Dialogue Group | Montreal, Quebec, Canada |
| American University | Washington, D.C. |
| Ethical Culture Fieldston School | Bronx, NY |
| The House of the Redeemer | New York, NY |
| Colgate Rochester Crozer Theological Seminary | Upland, PA |
| Seattle Jewish Film Festival | Seattle, WA |
| Office of Intercultural Affairs at Beloit College | Beloit, WI |
| UW Hillel & Stroum Jewish Studies | Seattle, WA |
| Jewish Federation of Columbus | Columbus, OH |
| Vancouver Jewish Film Festival | Vancouver, BC, Canada |
| Hevreh of Southern Berkshire | Great Barrington, MA |
| Ma'yan Tikva | Wayland, MA |
| Manhattan Beach Community Church | Manhattan Beach, CA |
| Congregation Kol HaNeshamah | Sarasota, FL |
| Peace United Church of Christ | Santa Cruz, CA |
| First Presbyterian Church of Bellevue | Bellevue, WA |
| Congregation Beth Shalom | Seattle, WA |
| Kansas Institute for Peace & Conflict Resolution | North Newton, KS |
| Just Film Festival | Vancouver, BC, Canada |
| Just Free Film Festival | Edinburgh, UK |
| St. Mark's Episcopal Cathedral | Seattle, WA |
| Northern Virginia Jewish Film Festival | Fairfax, VA |
| First Presbyterian Church of Atlanta | Atlanta, GA |
| Temple Beth El | Riverside, CA |
| The City Congregation for Humanistic Judaism | New York, NY |
| Golda Och Academy | West Orange, NJ |
| Congregation B'nai Torah | Brentwood, CA |
| Canadian Friends of Peace Now | Toronto, ON, Canada |
| Columbia Theological Seminary | Decatur, GA |
| J Street U at the University of Southern California | Los Angeles, CA |
| UCLA Law School | Los Angeles, CA |
| J Street U Kenyon College | Gambier, OH |
| California State University Los Angeles | Los Angeles, CA |
| River's Edge | Cleveland, OH |
| J Street U Reed College | Portland, OR |