The group of Israeli and Palestinian youth participants in our Young Ambassadors for Peace (YAP) program arrived late last Thursday night after a very long 6-hour bus ride through checkpoints and weekend traffic in Israel until they reached the north of Israel at Tabgha's Meeting Place on the northwest side of the Sea of Galilee where they could finally eat, take a dip in the natural springs and get some sleep.
The next day, a sunny, winter day, the group woke and could finally take in the beauty of their serene setting – fig trees, olive trees, seven natural springs with picnic tables, classrooms and two kitchens all for their use far from their usual surroundings. They were given a tour of Tabgha–  a holy Christian site traditionally accepted as the place of the miracle of the multiplication of the loaves and fishes. It also used to be a Palestinian village until 1948. After the tour, they met in the classroom, a group of 24 young adults, guys and girls, Palestinian and Israeli, bereaved and non-bereaved, staff and participants.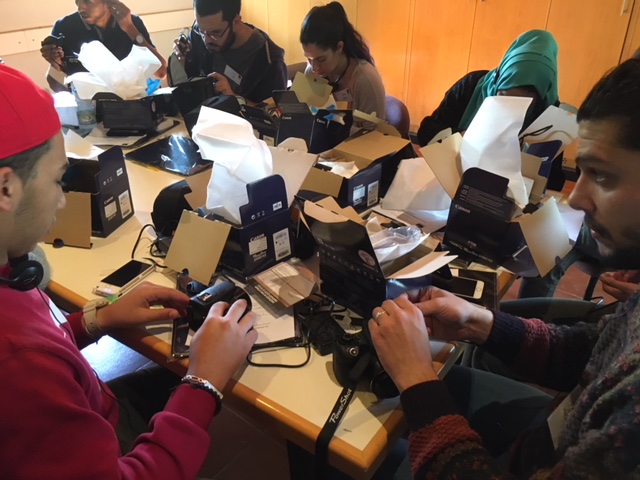 First order of business was to meet with the Israeli and Palestinian co-Directors of the Parents Circle, Israeli, Rami Elhanan and Palestinian, Mazen Faraj who also traveled a long way to wish them well and express how moved they were by this young group who offered hope for a better future, especially for them, two people whose loved ones had been taken away by the conflict. Mazen spoke to them about both the opportunity, but also the responsibility they have as participants of this program. They now have a responsibility to see things in a different way, to listen and to find a different way to move forward.  When they asked a young Israeli from the group what was going through his mind since being here, he responded, "How did this not happen before? I could have easily been somewhere else this Friday…"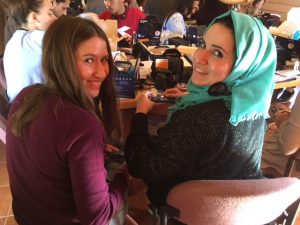 The YAP program managers, Israeli Dana Wegman and Palestinian, Osama Abu Ayyash handed out and introduced the digital cameras – the participants' tool for breaking barriers and getting to know each other over the next few months. In mixed groups, they learned the technical parts of putting in a flash card, zoom features, putting on the straps and asked each other for help and guidance to figure it out. Even this small technical piece of learning the camera together was a miracle – Israelis and Palestinians, supposed enemies, communicating with each other and working together to help each other.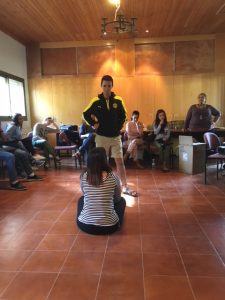 Now familiar with the camera, they were ready to begin the next session – "Point of View ". Dana, who is also a photography teacher for at-risk youth, explained that photography is a way to look deeply into things. It is a way to listen and learn with our eyes. She explained that the way we position ourselves as a photographer in relationship with the subject of the photo has a significant impact on what we see, learn, and project.   
Volunteers from the group exhibited the experience of different point of views. The first pair, a young Palestinian girl and a young Israeli guy stood in front of each other, but she stood high on a chair and he sat on the ground.
Although it's the same person, the experience of that person is different according to their position.
Then they switched. Each one, looking at the other, described their experience in that position. They reported that one looks stronger, one more threatening. One felt weaker, more vulnerable. Although it's the same person, the experience of that person is different according to their position. Dana explained, if we want to show someone weak and humiliated, we look down at them. If we want to show them strong and bold, we look at them from below.  

Next, Mahmoud, a young Palestinian guy and Aya, a young Israeli girl, stood far apart from each other, almost at opposite ends of the room. Mahmoud was asked to describe Aya and his vision of sight – what else could he see? Then they stood close to each other, very close. Mahmoud was asked to then describe Aya. He could then see the color of her eyes. He was asked to describe his experience standing far away from Aya and very close. As a young guy likely from a traditional society, you could sense his discomfort standing so close to a young girl and his discomfort looking directly at her.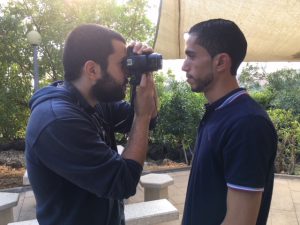 The youth were then sent off in pairs or small groups of Israelis and Palestinians to take pictures of each other from the four different perspectives outside of the classroom. The two young adults pictured to the left, one Israeli and one Palestinian worked together and got so close to each other in this photo; in "real life", an Israeli would not be standing so close to a Palestinian through the eye of a camera.  
When they came back to the classroom they shared their experiences and their photos and the bigger messages of perspective and the value of knowing another person from at "eye level" and up close not only from a photographic perspective but from a human, personal perspective and one that significantly applies to the conflict.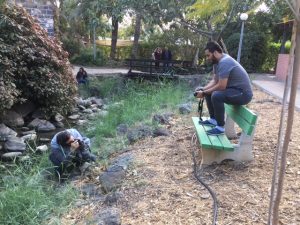 The group remained until the following day late afternoon and engaged in dialogue sessions and more work about Points of View and getting to know the other side. Their "homework" assignment for the next month back at home is to upload their photos of the weekend to the closed community Facebook group and to upload one photo that represents hope – something that gives them hope, energy and happiness and one that represents change – something that reflects an obstacle and is difficult that they would like to change. Already dozens of photos have gone up and the young ambassadors continue to be in conversation. The group will meet again once a month until the end of April.
Thank you to all of the friends of the Parents Circle who helped make this experience possible, as well as all of the experiences that are to come for this group of Israeli and Palestinian young people, the future of the peace movement.