"The Israeli-Palestinian Memorial Day Ceremony comes to remind us that war is not inevitable"
Dear friends,
On April 30, 2017, thousands of Israelis and Palestinians will come together to remember the shared pain experienced on both sides of the conflict. The Israeli-Palestinian Alternative Memorial Day Ceremony, which has been held following Israeli Memorial Day for the past twelve years, comes to remind us that war is not an act of fate but one of human choice.
This powerful ceremony will be streamed online live from Tel Aviv, and we are inviting you to participate:
Invite your community and constituents to a selected venue on Sunday, April 30 to watch the livestreaming of the Israeli-Palestinian Alternative Memorial Day Ceremony. English subtitles will be available.
Learn more about the ceremony and how you can share it in your community here.
---
Parents Circle Visits The US
Last month, two Parents Circle's members– bereaved mother, Robi Damelin, and bereaved son, Mazen Faraj– visited the US to share their stories of loss and reconciliation. Here are some of the highlights from their speaking tour:
A Conversation With Peacemakers and Silent Walk
In North Carolina, Robi Damelin and Mazen Faraj spoke together at events at UNC Chapel Hill and Duke University, sharing their individual stories of loss and their shared vision of a way toward peace.
Following the events on both campuses, Robi, Mazen, and students held silent walks for peace. Students and speakers alike, wearing patches from our Taking Steps project, marched in silence to show solidarity with bereaved Israelis and Palestinians.
Silent Walk for peace at Duke University, February 21, 2017
J Street 2017 National Conference
We were honored to attend and speak at this year's J Street National Conference. This incredible conference brings together speakers and social justice activists from around the world to discuss the way toward a two-state solution.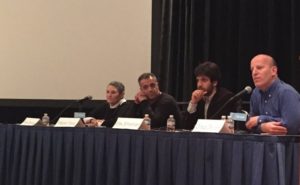 Robi and Mazen were joined by bereaved brother, Elik Elhanan, for their speaking session on Sunday, February 26, where they discussed their uncommon path of forgiveness in the face of loss, and how their work humanizes the conflict.
Watch a recording of their session here.
In peace,
American Friends of the Parents Circle
READ MORE