You are witnessing a miracle. Israeli and Palestinian women sitting at the table together is a rare experience.

You can bring women to the table. Our campaign to support Embroidering for Peace is 25% funded. You can help these women stitch it together— make a contribution today.
Embroidering for Peace is a unique opportunity for Israeli and Palestinian women to come together. Palestinian women teach Israeli participants traditional Palestinian embroidery. Bushra, a bereaved Palestinian mother, shares her story with participants.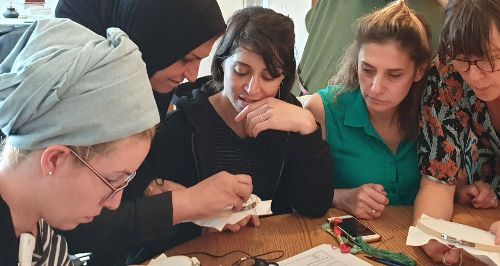 "I appreciate all the people that came from afar today, from Hebron and Bardala, and stayed with us the entire day. The journey that Bushra did – from once not wanting to meet any Israelis, to today, where she attends a 3 hour meeting plus several hours of travel – deserves great respect."
–Israeli participant
Parents Circle programs have a lasting impact. 93% of the Israelis and Palestinians who complete the Parallel Narrative Experience are willing to work with the "other side". Embroidering for Peace is a project of the Parallel Narrative alumni. It shows their ongoing commitment to bring more people together for dialogue. 

The Trump Administration's cuts to USAID threaten our peace programs. We need your help to keep this project going.