Na'ama Roth, 25, is Israeli. She lost her uncle, Udi, when he was kidnapped and killed by Hamas in 1993. Na'ama's father joined the Parents Circle to seek reconciliation and a just end to the conflict.
"My father promised himself and his children to try to do everything he can," Na'ama says, "so that this tragedy would not happen to anyone again."
Read More.
Hiba Abu Ayyash, 23, is Palestinian. Her uncle, Kamal, was beaten and later killed by Israeli soldiers. Her other uncle, Tayseer, decided to take revenge for his brother and was later killed. Her grandfather died on the way to the hospital when a military checkpoint prevented his ambulance from getting to the hospital.
"After all of this pain and seeing my mother crying throughout my childhood, I grew up hating the occupation and all Israelis," says Hiba.
Read More.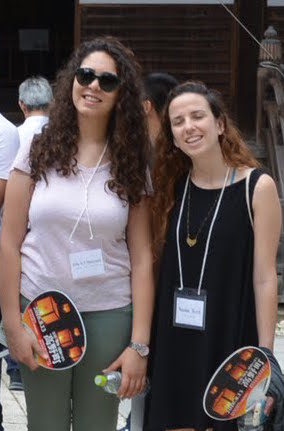 This summer, at the PCFF Youth Program, Na'ama and Hiba joined other bereaved young people in social activities, narrative exploration and learning about the other. "They felt my pain," Hiba said. "I saw that there are people on the other side who also want to live in peace."
Both of these incredible people have chosen to become Young Ambassadors for Peace.
Please make a year-end gift so Na'ama and Hiba can receive leadership and peacebuilidng training and become Young Ambassadors for Peace.
Support the next generation of peace leadership! Your contribution will go to support a 10-month peace leadership training program in 2017 for 25 bereaved Israeli and Palestinian young adults. In this program, they will dialogue with the other side, share their stories of loss, and will be given the education and training to become the next generation of peace leaders.
"For me, it`s important to act for peace, and I believe that activities of Israelis and Palestinians together– like the Parents Circle's– are necessary to solve the conflict."
Na'ama Roth
Click here to make your tax-deductible donation to support Young Ambassadors for Peace.
Thank you for your help in 2016, and for spreading our message that violence is not inevitable– there is another way.